Highlights
Hike along the historic 'Nakasendo Trail' – the Edo Period trade route which once connected Kyoto to Tokyo – through the beautiful Kiso Valley
Explore three of the Nakasendo's best preserved post towns – Narai, Magome, and Tsumago – each renowned for their historic state of preservation
Spend a night at a traditional inn in Magome, including dinner and breakfast service
Discover the Japan of your imagination as your retrace the footsteps of merchants, warriors, and pilgrims who once walked the same path.
Contents
| | |
| --- | --- |
| Period | Mon & Thu / Apr - Nov |
| Duration | 2 Day |
| Destination | Kiso Valley: Narai Ochiai Magome Tsumago |
| Start / End | Nagano Station / Nagano Station |
| Regions | Central Japan |
| Operator | Snow Monkey Resorts |
Situated in central Japan between the popular destinations of Tokyo and Kyoto, the mountainous of region of Nagano is the literal heart of Japan and a road less traveled by many international visitors. Beginning and ending in Nagano, this 2-day tour transports you back in time to the historic Nakasendo Trail to hike between the post towns of Narai and Yabuhara (Day 1) and Magome and Tsumago (Day 2). Including accommodation in Magome, lunch on both days, and an English-speaking guide, this 2-day tour takes you off the beaten path and along one of ancient trade roads of Japan, deep into the heart of this fascinating country and culture.
Itinerary
Day 1 08:45 Meet-up with your guide at JR Nagano Station

Your guide will meet you at JR Nagano Station at 08:45 (the guide will be waiting from 08:35 onward) and have you board the tour bus as quickly as possible to begin your journey south, toward the beautiful Kiso Valley.

10:45 Arrival at Narai

Known as 'Narai Senken' or 'Narai of a Thousand Houses', this beautifully preserved town marked the midpoint of Nakasendo – the thirty-fourth of sixty-nine stations which monitored, controlled, and taxed traffic along the road.

13:30 Narai to Ochiai

At approximately 13:30 it's time to board the tour bus and follow the beautiful Narai River toward your next stop, Ochiai. Well-filled by lunch, it's the perfect chance to enjoy the beautiful scenery and relax, as you are whisked toward Ochiai, from where you will enjoy the first walking segment of the tour.

15:15 Ochiai walk to Magome

The walk from Ochiai to Magome is a comfortable walk of approximately 1 hour in duration. Leading you initially through a cedar forest and then back into the open and past rice fields and homes, this section of the Nakasendo retains some of the last remaining paving stones and is a road less travelled by visitors – the perfect place to get an appreciation for the original route and start walking!

16:30 Arrival at Magmo

Arriving at Magome around 16:15 to 16:30, your guide will accompany you to your guesthouse – where your luggage will be waiting – before wishing you good evening to enjoy the town and dinner at your accommodation.

Day 2 09:30 Start of second day

The second day begins with breakfast at your guesthouse before meeting-up with your guide around 9:30. You'll have time to explore the town which has been extensively resorted including a broad stone walkway lined by museums, traditional stores, and restaurants interspersed with regular homes before beginning you second days walk – a longer and more energetic 7.6km trail – to Tsumago.

13:00 Arrive at Tsumago

The approximate 2.5 to 3 hour walk takes you through an undulating landscape of rice paddies, farm fields, streams, forests and even some waterfalls. Your guide will lead you at a comfortable pace including a longer break around the halfway point to rest your feet and soak in your surroundings.
As the forest thins and the landscape opens up, you will arrive in Tsumago – the 42nd post town and your final destination. Your guide will first take you for a well-deserved lunch followed by time to explore perhaps the best preserved and enchanting of the post towns for yourself.

15:30 Begin your journey back to Nagano

Around 15:30 you'll meetup with your guide and board the tour bus to begin the journey back to Nagano.

19:00 End of the tour

Arrive at JR Nagano Station where the tour concludes.
Meeting Place
Nagano Station - At the Information Board across from the Shinkansen exit gates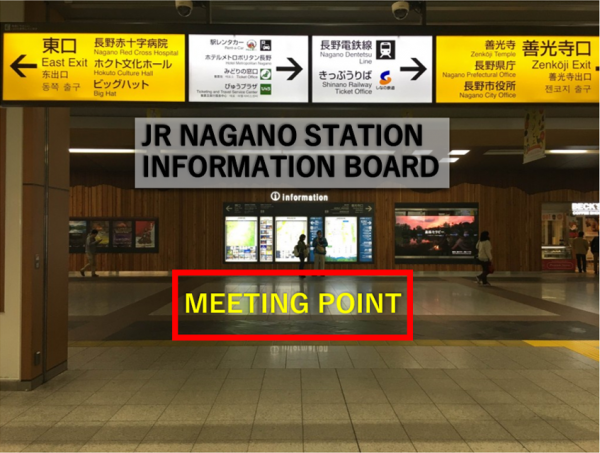 Inclusions:
Transportation fee from Nagano to the Kiso Valley and between activities/attractions
Lunches on Day 1 & Day 2
Accommodation on Day 1 including dinner and breakfast
English-speaking guide
Exclusions:
Additional food, snacks and drinks
Shinkansen/Bullet train tickets
Other Information
Please wear suitable shoes/boots and clothing for hiking through varying terrain. The trail is well-maintained and paved in some areas with other sections being more challenging. The trail is undulating with some steeper climbs however it is suitable for anyone of reasonable fitness. If it is raining, paving stones can become slick therefore good quality walking boots/shoes are required and guests should consider brining a walking stick/poles if required.
Please be prepared for changing weather conditions including rain (anytime of year but especially in June and July) and hot, humid condition from late-June until September. Kiso Valley is a mountainous region therefore weather can change quickly.
Accommodation is at a traditional guesthouse including futon bedding (on the floor) and shared bathrooms, typical of a traditional Japanese inn.
The tour application deadline is 2 days before the tour date at 17:00.