Highlights
Visit the world-famous Snow Monkeys of Jigokudani and learn all about what makes them so unique
Enjoy lunch at a nearby restaurant and indulge in Nagano's renowned food culture
Discover Shiga Kogen – Japan's largest ski resort! – and have fun snow-scooting, snow-biking, and sledding in the beauty of the snow-covered landscape
Ride a chairlift to one of the resorts highest ski runs and enjoy the panoramic view of the surrounding mountains and valley below
Contents
| | |
| --- | --- |
| Period | Dec. 22 - Jan. 10 |
| Duration | 1 Day |
| Destination | Snow Monkey Park Shiga Kogen |
| Start / End | Nagano Station / Nagano Station |
| Regions | Central Japan |
| Operator | Snow Monkey Resorts |
This exciting one-day tour combines a visit to the world-famous Snow Monkeys of Jigokudani with afternoon of fun in the deep powder snow of Shiga Kogen – Japan's largest ski resort! Including lunch and led by a locally-based, English-speaking guide, this tour follows a simple equation: snow monkeys + lots more snow = big fun in Shiga Kogen!
Itinerary
09:35 Meet-up with the guide at JR Nagano Station

The tour starts at JR Nagano Station at 09:35 (your guide will be waiting from 09:20), from where you'll quickly board the tour bus and be on your way toward the mountains and straight to the Jigokudani Snow Monkey Park.

10:50 Welcome to the Snow Monkey area!

Arriving at the park around 10:45, your guide will lead you along the forest trail in the monkey park, where you'll be introduced to these truly curious creatures.

11:30 Arrival to the Snow Monkey Park

As the only troop of monkeys in the world known to bathe in hot springs, the monkeys of Jigokudani have reached global fame and observing them go about their monkey business – foraging, wrestling, grooming and of course, soaking in the hot spring – is a must see when in Nagano!

13:00 Lunch at a restaurant nearby the park.

Head to lunch at a nearby restaurant. In the cold of winter your guide will treat to you a set lunch menu (with vegetarian options available), designed to fill and warm you for the afternoon activities in Shiga Kogen.

13:45 Leave the lunch restaurant and head toward Shiga Kogen - Japan's largest ski resort.

As Japan's largest and highest ski resort, Shiga Kogen's proximity to the monkey park make it the perfect destination to experience Nagano's fabled powder snow. Your will be transported to the central area of Ichinose for a afternoon of snow fun, with an activity area sectioned-off for you to enjoy using snowscoots, snowdrives, and good old-fashioned sleds and tubes.

14:30 Arrival at Shiga Kogen and enjoy your snow fun activities.

Suitable for the whole family, guests who get their confidence up have the option of heading-up the nearest ski run, accompanied by the guide, who will race to back to the bottom. And of those bright blue days – thankfully Shiga gets a lot despite all the snow! – you will also be taken up one of the resorts highest ski runs to take in the surrounding view.

16:00 Leave the snow fun area and then take a ski lift to go up the mountain

Take in the view from around 2000 meters

16:30 The end of snow fun activities in Shiga

Leave Snow Fun activity area Shiga Kogen and head back to Nagano

18:30 Arrive at JR Nagano Station, where the tour concludes.

Scheduled to return to JR Nagano Station by 18:30, this tour is a true snow-filled adventure that will leave a lasting impression.
Meeting Place
Nagano Station - At the Information Board across from the Shinkansen exit gates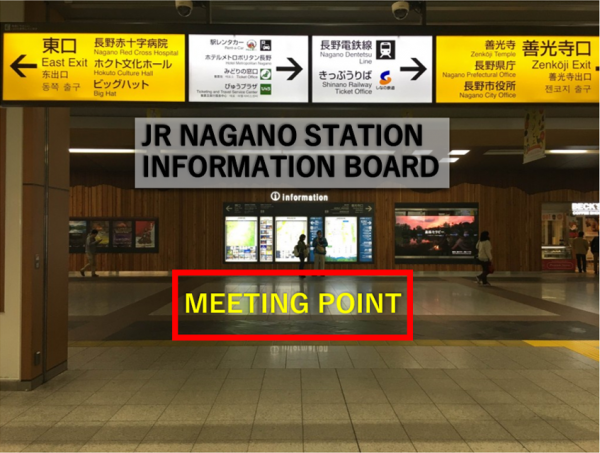 Inclusions:
Transportation from Nagano Station to the Snow Monkey Park and to Shiga Kogen Ski Resorts and back to Nagano Station
Entrance fee to the Snow Monkey Park
Lunch (vegetarian options are available)
English-speaking guide
Snow activity fees in Shiga Kogen
Exclusions:
Shinkansen/bullet train ticket
Rental boots (if required)
Rental clothing including snow jackets & pants (if required)
Additional snacks, food & drinks at Shiga Kogen
Other Information
There will be a significant amount of walking required (1.6 km one way) to get to and from the Snow Monkey Park, along a forest the trail so please wear shoes/boots suitable for walking on snow and ice. Rental boots (JPY500) are available close to the monkey park, if required.
Crampons (metal spikes that attach underneath your shoes/boots) can also be purchased, if required.
There are a few days in the year that the monkeys might not come down to the park. In such case we will provide an alternative activity.
Infants (0-5) are free of charge. (No tour meal is included. Please order foods directly to the restaurant.)
This tour is insured however as the guest, you are required to have your own travel insurance which covers snow activities including riding chairlifts and using snowdrives, snowscoots, sleds, and tubes. Please confirm that your insurance policy covers this activity prior to the tour.
The tour application deadline is 2 days before the tour date at 17:00.