Highlights
Visit the world-famous Jigokudani Snow Monkey Park and learn all about what makes the resident monkeys so unique
Explore Zenko-ji, one of Japan's oldest and most important Buddhist temples, and home to the first known Buddhist statue to be brought to Japan.
Enjoy lunch at a nearby restaurant and experience Nagano's renowned food culture Try 'sake' with a tasting and learning experience all led by your guide (non-alcoholic option also available)
Multiple pickup points in Nagano City (all year round) and Hakuba shuttle service (winter only)*
Contents
| | |
| --- | --- |
| Period | Everyday - All Year Round |
| Duration | 1 Day |
| Destination | Snow Monkey Park Zenko-ji Temple Sake Tasting |
| Start / End | Nagano Station or Hakuba Bus Terminal / Nagano Station or Hakuba Bus Terminal |
| Regions | Central Japan |
| Operator | Snow Monkey Resorts |
Your guide will meet you at JR Nagano Station at 09:35 (the guide will be waiting from 09:20 onward) and from there head to Zenko-ji. As a registered National Treasure, the temple is the most important cultural site in Nagano and one of the oldest and most important Buddhist temples in the entire country!
A place of true historic importance, full of legends and myths, you will be guided around the temple before (time permitting) your guide will give you the opportunity to explore the surrounding precinct of smaller temples, shops, and food by yourself.

It's then time for an early lunch! Depending on the time of year we use different restaurants, each serving cuisine highlighting the best of Nagano's renowned food culture. From delicious and warming beef, chicken, or vegetarian hot pot in the winter months, to mixed sushi plates and Nagano-style chicken or seasonal grilled vegetables through spring to autumn, meals are designed to match the season and complemented with a guided 'sake' tasting experience, led by your guide.

Home to a huge number of breweries, Nagano is synonymous with sake and no visit to the region is complete without delving into Japan's most famous beverage. Dip you toes into this seductive world as your guide explains the process, terminology, and appreciation of Nagano's acclaimed sake (a non-alcoholic option is also available).

Well-fed and warmed by sake it`s time to head-out of Nagano, as you are transported to the Snow Monkey Park. Your guide will take you along the forest trail which leads to the park and into Jigokudani – rather dramatically translating to `Hell`s Valley`. Home to the only troop of monkeys in the entire world known to bathe in hot springs, there are no barriers separating you from the wild monkeys, making this a unique and memorable experience.
Your guide will introduce these truly curious creatures and provide you time to enjoy the unique experience of observing them in close proximity. Make sure to bring your camera as you`re going to need it!

By visiting the park in the afternoon when visitor numbers are lower, we aim to provide our guests with the best possible experience and more space and time with the monkeys. Your guide will then accompany back along the trail and soon have you heading back toward Nagano, the perfect time to sit back, relax, and look through all those monkey photos before the tour returns to JR Nagano Station and concludes at 17:30.


Itinerary
08:20 *Winter-only*

Guests using our shuttle service from Hakuba will be greeted by our staff and board the shuttle service to Nagano. Please note that the guide will join at JR Nagano Station. (Upon request) we will stop to collect guests staying at Hotel Kokusai 21 at 09:10.




09:35 Meet up with the guide at JR Nagano Station

Meet up with the guide at JR Nagano Station. The meeting point is in front of the Information Board, directly opposite the shinkansen/bullet train ticket gates. Additional pickup point is available at Patio Daimon in Nagano City at 09:55 (upon request).

10:00 Arrive at Zenko-ji Temple

Explore the precinct with your guide followed by (time permitting) 25-30 minutes of free time.


11:30 Lunch

Enjoy lunch at a nearby restaurant along with a sake tasting experience led by your guide.


13:00 Head toward Snow Monkey Park

Depart Nagano and head toward the Snow Monkey Park.


14:00 Snow Monkey Park

Arrive nearby the Snow Monkey Park area. Prepare and walk along the forest trail (25-30 minutes) into the park.


14:40 Arrive at the park

Arrive at the park and enjoy watching the wild macaques bathing in the onsen and going about their lives.


15:40 Depart the park

Depart the park and walk back out along the forest trail.


16:20 Leave the Snow Monkey Park

Leave the Snow Monkey Park area and begin your return journey to Nagano.


17:30 Tour concludes at JR Nagano Station

Tour concludes at JR Nagano Station, where the guide will say their goodbyes (guests returning to Hakuba will then be shuttled back to the Hakuba Happo Bus Terminal with an estimated arrival time of 18:45).

Meeting Place
Nagano Station - At the Information Board across from the Shinkansen exit gates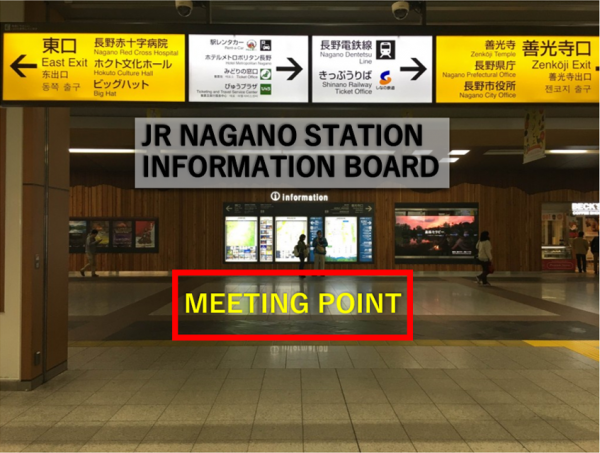 Inclusions:
Transportation fee from Nagano to the Snow Monkey Park and between activities/attractions
Snow Monkey Park entrance fee
Lunch (vegetarian options are available, please let us know beforehand)
Sake tasting
English-speaking guide
Exclusions:
Additional food, snacks and drinks
Optional entrance fee to the inner sanctuary of Zenko-ji Temple
Shinkansen/bullet train tickets
Accommodation
Other Information
There will be a significant amount of walking required (1.6 km one way) to get to and from the Snow Monkey Park, along an unsealed forest trail so please wear appropriate shoes/boots.
From mid-December until early-April the trail and park are likely to be affected by snow and ice. Please ensure that you are wearing suitable shoes/boots and warm clothing. If required, rental boots are available close to the monkey park and crampons (metal spikes that attach underneath your shoes/boots) can also be purchased. From mid-December until early-March please wear suitable clothing for temperatures potentially below 0°C (and as low as -10°C).
During the winter it is common to see the Snow Monkeys enjoying the hot spring bath, however from spring up to autumn there will be times where the monkeys play or eat in the water, however please note that the monkeys are wild animals and there is no guarantee that there will be monkeys in the bath.
There are a few days in the year that the monkeys might not come down to the park. In such case we will provide an alternative activity.
*Winter only* – guests in Hakuba can join this tour using our shuttle service from/to the Hakuba Happo Bus Terminal. This service is only available from 2019/12/18 until 2020/03/31. We apologise that bookings from/to Hakuba cannot be accepted outside of these dates. When using this shuttle service please note that your guide will join and depart the tour at JR Nagano Station.
This tour includes lunch at Monzen Terrace Enya. On rare occasions it may not be possible to use this restaurant in which case we would switch to another, comparable location
Infants (0-5) are free of charge. An infant lunch is not included and the order will be made directly to the restaurant according to your needs.
The tour application deadline is 1 day before the tour date at 17:00.