Highlights
Explore Zenko-ji – a National Treasure and one of the oldest and most important Buddhist temples in Japan; enjoy a guided 'sake' tasting experience and lunch at one of Nagano City's best restaurants; and visit the world-famous snow monkeys of Jigokudani and learn all about what makes them so unique on Day 1
Visit iconic Matsumoto Castle – a National Treasure and one the last remaining original castles in Japan; enjoy lunch at one at Ishii Miso Brewery – one of Nagano's oldest and most acclaimed miso producers – followed by a quick tour of he brewery itself; and be driven through the southern reaches of Japan's stunning Northern Alps enroute to your final destination – Takayama, where you can explore the stunning old town on Day 2
Including English-speaking guide and full-service accommodation in Nagano City on Day 1
Self-guided itinerary on Day 2, with transport from Nagano to Takayama included.
Contents
| | |
| --- | --- |
| Period | All Year Round |
| Duration | 2 Day |
| Destination | Snow Monkey Park Zenko-ji Temple Sake Tasting Matsumoto Castle Miso Factory Takayama |
| Start / End | Nagano Station / Takayama |
| Regions | Central Japan |
| Operator | Snow Monkey Resorts |
Situated between the popular destinations of Tokyo and Kyoto, the mountainous of region of Nagano is the literal heart of Japan and a road less travelled by many international visitors. This tour combines some of the region's most iconic destinations – including the world-famous Snow Monkeys of Jigokudani, the 1400-year old Zenko-ji Temple, Matsumoto Castle, and the historic old town of Takayama – with the unforgettable experience of being driven through Japan's Northern Alps, a place of high mountain peaks and rarefied beauty. With English-speaking guide, lunch, and full-service accommodation on Day 1 followed by hotel pick-up and transport to Matsumoto and Takayama, including hotel drop-off, on Day 2, this tour captures the history and beauty of central Japan with the convenience and comfort of one easy package.
Itinerary
Day 1 09:35 Meet-up with the guide at JR Nagano Station.

Your guide will meet you at JR Nagano Station at 09:35 (the guide will be waiting from 09:20 onward) and from there head to Zenko-ji. As a registered National Treasure, the temple is the most important cultural site in Nagano and one of the oldest and most important Buddhist temples in the entire country!

10:00 Arrive at Zenko-ji Temple

A place of true historic importance, full of legends and myths, you will be guided around the temple before (time permitting) your guide will give you the opportunity to explore the surrounding precinct of smaller temples, shops, and food by yourself.

11:30 Enjoy lunch at a nearby restaurant along with a sake tasting experience

It's then time for an early lunch! Depending on the time of year we use different restaurants, each serving cuisine highlighting the best of Nagano's renowned food culture. From delicious and warming beef, chicken, or vegetarian hot pot in the winter months, to mixed sushi plates and Nagano-style chicken or seasonal grilled vegetables through spring to autumn, meals are designed to match the season and complemented with a guided 'sake' tasting experience, led by your guide.

14:00 Arrive nearby the Snow Monkey Park area.

Your guide will take you along the forest trail which leads to the park and into Jigokudani – rather dramatically translating to `Hell`s Valley`. Home to the only troop of monkeys in the entire world known to bathe in hot springs, there are no barriers separating you from the wild monkeys, making this a unique and memorable experience.

14:40 Arrive at Snow Monkey Park

Your guide will introduce these truly curious creatures and provide you time to enjoy the unique experience of observing them in close proximity. Make sure to bring your camera as you`re going to need it!

17:30 ~ 17:45 Estimated arrival time at your accommodation

Your guide will then accompany back along the trail and soon have you heading back toward Nagano where the tour concludes at your accommodation, Hotel Kokusai 21.

Day 2 08:30 After enjoying a filling breakfast at the hotel, driver will meet-up with you and the tour heads up to Matsumoto Castle.

Your second day is self-guided and begins with pick-up at Hotel Kokusai 21, from where your driver will transport you to Matsumoto.

10:00 Arrival at the castle gardens of Matsumoto

Set against the backdrop of Japan's Northern Alps, Matsumoto Castle is one of four original castles remaining in Japan. Constructed more than 400 years ago, the imposing yet beautiful 6-storey structure of white and black walls is commonly referred to as the 'Crow Castle' – a registered National Treasure.

13:00 Meet-up with your driver and make your way to Takayama through the beautiful Northern Alps.

The morning is yours to explore the castle grounds and interior – climbing all the way to sixth floor should you want to! – and the surrounding precinct of shops and restaurants. Your driver will then escort you to Ishii Miso, a miso factory where you'll taste and learn all about the condiment. After lunch you'll be collected by your driver and start the journey to the historic town of Takayama.


15:30-16:00 Arrive at your accommodation in Takayama, depending on the traffic conditions.

The majority of this drive is through the southern end of Japan's Northern Alps, a stunning landscape of high mountain peaks rising above the road, rivers, and lakes below. At its heart, Japan is a mountainous country and this spectacular region is often missed by visitors using the train lines along the coast. Your driver will stop along the way, allowing you time to stretch your legs and breathe in the mountain air before heading onto your final destination, Takayama.
Meeting Place
Nagano Station - At the Information Board across from the Shinkansen exit gates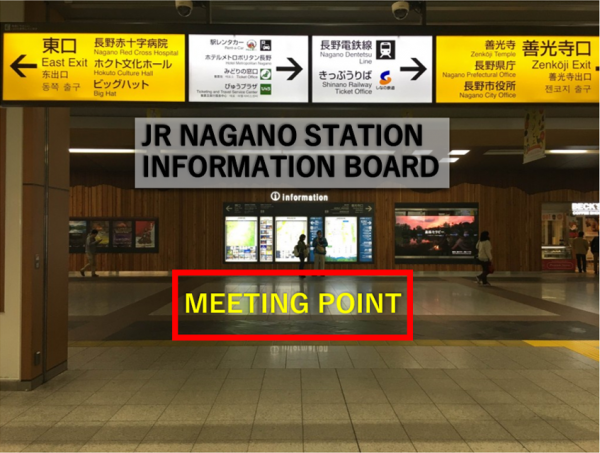 Inclusions:
Transportation from Nagano to all listed destinations, ending at Takayama
Snow Monkey Park entrance fee
Lunch on Day 1 & Day 2
Sake tasting
Accommodation at Hotel Kokusai 21 on Day 1 (inc. breakfast on Day 2)
Matsumoto Castle entrance fee
English-speaking guide on Day 1
English-speaking driver on Day 2
Exclusions:
Dinner on Day 1 & Day 2
Accommodation in Takayama
Lunch for infant (0-5) – please order directly to the restaurant according to your needs.
Shinkansen/bullet train tickets
Other Information
Please wear suitable shoes for the walking trail into the Snow Monkey Park.
During the winter it is common to see the Snow Monkeys enjoying the hot spring bath, however from spring up to autumn there will be times where the monkeys play or eat in the water, however please note that the monkeys are wild animals and there is no guarantee that there will be monkeys in the bath.
There are a few days in the year that the monkeys might not come down to the park. In such case we will provide an alternative activity.
Infants (0-5) are included free of charge. No bed is provided for them in the accommodation but they are free to share with an accompanying adult.
It is possible to extend your stay at Hotel Kokusai 21. Please send us your preferred length of stay if this is what you're looking for.
The tour application deadline is 2 days before the tour date at 17:00.