Highlights
Visit Nagano's world-famous Jigokudani Snow Monkey Park – home to the only hot spring-bathing monkeys in the entire world!
Enjoy a late lunch at Hotaru-tei – a 160-year old converted mansion and one of the region's best restaurants Sample 'sake', as your guide introduces to the indulgent world of Japan's national drink
Experience Japan's largest and most beautiful autumn fireworks display – the Ebisu-ko Fireworks Festival – including reserved seating for an uninterrupted view of this stunning event!
Contents
| | |
| --- | --- |
| Period | November 23 |
| Duration | 1 Day |
| Destination | Snow Monkey Park Firework Festival ground in Nagano |
| Start / End | Nagano Station / Nagano Station |
| Regions | Central Japan |
| Operator | Snow Monkey Resorts |
With over 15,000 individual fireworks lighting-up the crisp autumn sky, Nagano's annual Ebisu-ko Fireworks Festival attracts over 400,000 people to the city to watch this amazing spectacle. As Japan's largest and most beautiful autumn fireworks display, this tour includes reserved seating at the event with a visit to Nagano's world-famous Snow Monkey Park – home to the only troop of monkeys in the world known to bathe in hot springs – and late lunch at one of the region's best restaurants. This once a year tour is one of our most popular and is sure to leave a lasting impression long after the fireworks fade away!
Itinerary
11:00 Meet up with the guide at the Information Board of JR Nagano Station

Your guide will meet you at JR Nagano Station at 11:00-11:10am (the guide will be there from 10:50am) and once all guests have arrived, get the tour started by heading toward the Snow Monkey Park.

12:20 Welcome to the Monkey area!

Accessed via the 'onsen' (hot spring) village of Kanbayashi Onsen, you will be dropped as close as possible to the park before your guide takes you along the forest trail leading into the park itself (1.6km each way), taking approximately 30 minutes.

12:50 Arrive at the Snow Monkey Park

This beautiful and easy walk builds anticipation before arriving at the park where you will encounter the monkeys – Japanese macaques – and their unique behaviour of soaking in the hot spring. With no barriers between you and the monkeys, you are free to enjoy watching them bathe, play, fed, and endlessly groom each other – remember to bring your camera, you're going to need it!

13:50 Depart the park and walk back out along the forest trail.

From there your guide will take you back along the forest trail and to a nearby restaurant for a well-earned late lunch. Hotaru-tei is housed in a 160-year old merchant family mansion – recently converted to a restaurant – which has quickly established itself as one of the region's best. In the historic surroundings of this traditional building, you can enjoy Japan and Nagano's renowned food culture followed by 'sake' tasting.

14:30 Arrive at Hotau-tei lunch rstaurant

Enjoy a late lunch to recharge your energy, followed by 'sake' tasting to warm you for the night to come (venue for sake tasting to be confirmed).


15:30 Depart the restaurant and head toward Nagano.

Leaving the restaurant it's time to head back to Nagano and get seated for the largest autumn fireworks display in Japan!

16:40 Arrive nearby the festival grounds and walk to your reserved seating.

Over the years the fireworks have grown to what they are today – Japan's largest autumn fireworks display which attracts an audience of more than 400,000 people!

18:00 The spectacular fireworks bursts into the night sky and continue over the next two hours.

This tour includes reserved seating to ensure you have an uninterrupted view of the fireworks and can enjoy the show in comfort. Running from 18:00 to 20:00, the crisp autumn sky radiates in the light of more than 15,000 individual pyrotechnics, culminating in the dazzling main event which closes out the show.

20:00 End of the festival! Your guide will lead you through the crowd and back to your bus, before heading to JR Nagano Station.

Once done your guide will help you navigate to the crowds back to your bus for the short drive to JR Nagano Station where the tour concludes at approximately 21:00 to 21:15.
Meeting Place
Nagano Station - At the Information Board across from the Shinkansen exit gates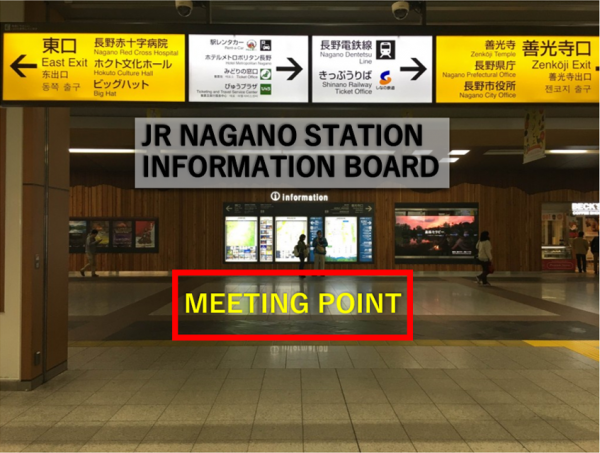 Inclusions:
Transportation fee from Nagano to the Snow Monkey Park and between activities/attractions
Snow Monkey Park entrance fee
Reserved seat (Ebisu seat) at the Ebisu-ko Fireworks Festival
Lunch (vegetarian options are available, please let us know beforehand)
Sake tasting
English-speaking guide
Exclusions:
Shinkasen/Bullet train tickets
Dinner (there are many vendors at the festival so you can choose freely from what is available there)
Additional food, snacks and drinks
Accommodation
Other Information
There will be a lot of walking on paved and unpaved roads so please wear suitable shoes. If required, rental boots can be arranged while at the monkey park.
It will be cold in the end of November in Nagano with a possibility of snowfall and temperatures falling below 0 degrees. The cold is especially apparent at night so please wear warm clothes fit for winter.
A infant (0-3) lunch is not included and the order will be made directly to the restaurant according to your needs.
There will be a lot of people leaving for places like Tokyo and Kanazawa after the festival. It is expected to be very busy so be sure to book either your Shinkansen tickets or your hotel in/around Nagano in advance. If you wish to stay the night in the area, please refer to our hotels page for Nagano City.
The tour application deadline is 5 days before the tour at 17:00.