About Nagoya
As the third largest city in Japan, Nagoya (名古屋) is the shipping and production hub of Japan, with automotive giants such as Toyota calling Nagoya their home. While not as frequently visited like other metropolises such as Tokyo and Osaka, Nagoya has plenty to offer in regards to history, culture, and cuisine. If you have some time to explore, Nagoya is sure to keep you busy.
The most famous attraction and icon of Nagoya is Nagoya Castle. The castel, originally built by the ruling Tokugawa clain and bombed and destroyed in WW2 (some burned spots still remaining), has been mostly restored and now showcases artifacts and explanations about the Edo Period (1600-1868). The crowning jewel of the castle are the Shachihoko golden dolphins, statues that used to be placed at the winged tips of the roof or the main castle and were protective charms against fires.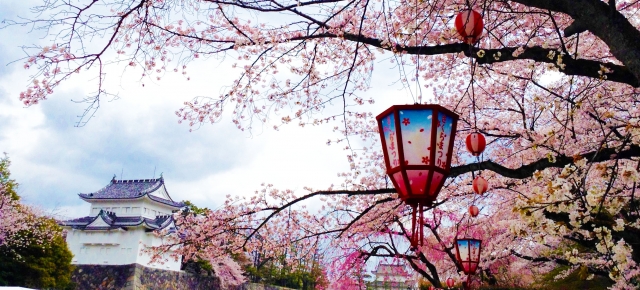 Especially the cherry blossom season in early April is a popular time to visit the castle of Nagoya as many of the trees on the castle ground and in the castle park are cherry blossom trees.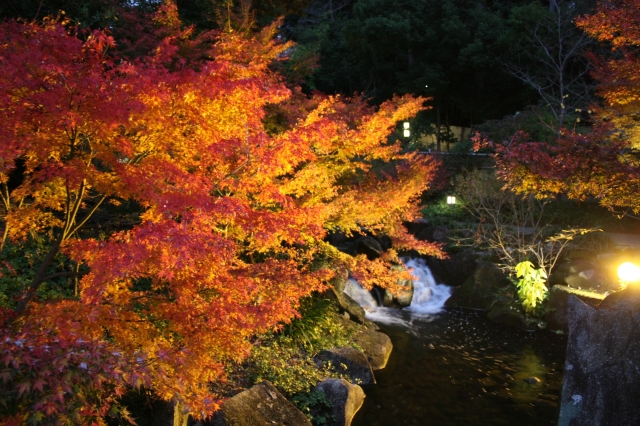 Close to the castle is the Tokugawa Art Museum (10:00 – 17:00, ¥1,200) centers its displays around artifacts and items of Tokugawa Ieyasu, the first shogun (warlord) of the Tokugawa clan and founder of the Edo Period (1600-1868). has a exhibition on art and artifacts. More impressive than the art maybe, are the Tokugawa-en gardens (9:30 – 17:30, ¥300) surrounding the museum. These Japanese gardens are styled in a way that was popular during the Edo Period.
Another reason to visit Nagoya is the Atsuta Shrine, the largest shrine in Japan after the Ise Shrine. It houses the sword, one of the Three Sacred Regalia. Besides this holy item, Atsuta has a large collection of artificats such as sword, mirrors, masks, documents from the imperial family, shoguns, and other feudal lords. Many of these artifacts are displayed at the Treasure Hall (9:00 – 4:30, ¥300). Surrounded by cypress trees, the shrine feels like an oasis of calm on most days.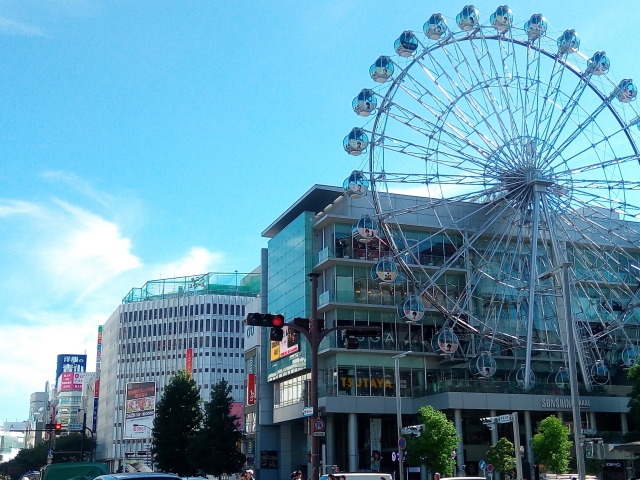 Sakae is the entertainment and shopping district. Here you'll find many department stores and fancy restaurants and cafes. Famous in Sakae is the 42 diameter Sky-Boat (11:00 – 9:00, ¥500), a Ferris wheel attached to the side of Sunshine Sake, a large shopping and entertainment store. The wheel is especially attractive at night when the LED lights illuminate the attraction in bright colors and all of Sakae is one big mass of neon signs.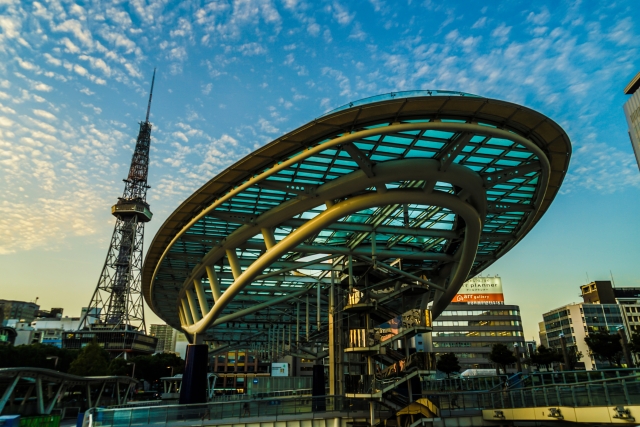 Close to Sakae is Oasis 21, a multilevel park reminiscent of a spaceship. Many events are held at Oasis 21, with frequent visits from idols and Jpop groups. The ground level is planted with greens and has many shops and fashionable cafes, and the upper level is a glass roof filled with water.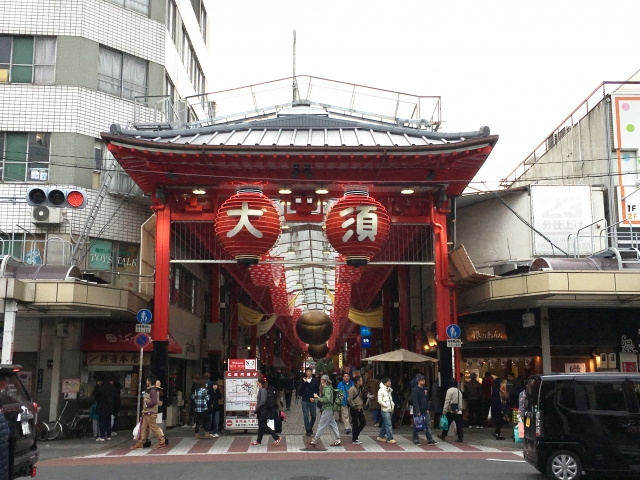 Another shopping district (but with a completely different atmosphere compared to glitzy, modern Sakae) is Osu-Kannon, a popular retail district with over 1,200 shops and restaurants. Those looking for clothes, electronics or make-up will find what they want in in the covered streets of Osu, as well as those looking for traditional Japanese crafts.
Tip: the best taiyaki (baked fish-shaped) can be found in Osu.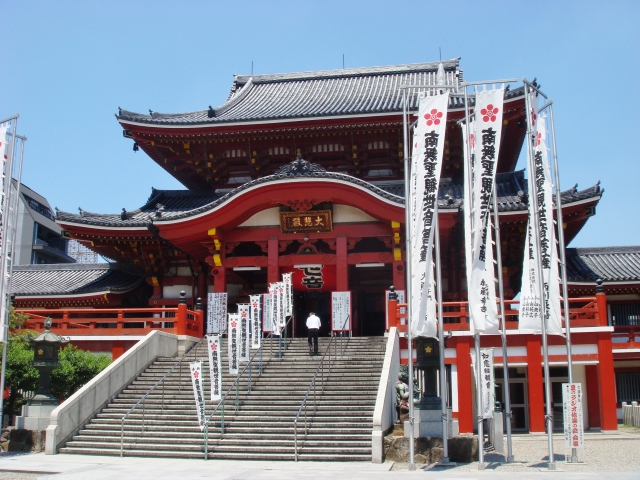 Before entering the roofed shopping street of Osu, there is the 14th century Osu Kannon temple, which is famous for its library.
The port of Nagoya at Ise Bay is the largest trading port in Japan. The port is not all about ships and containers, one part has been turned into a place of leisure, with an amusement park, museum, shopping area, and most famously, an aquarium. The Nagoya Public Aquarium (9:30 -17:30, ¥2,000) is one of Japan's largest aquariums and has all sorts of sea creatures such as whales, orcas and more. Most popular is the dolphin show held 3 times a day.
https://www.instagram.com/p/Bpbd0jBjve3/?hl=ja&taken-at=59584
Car-lovers will enjoy Nagoya, as the HQ and many of the production sites of Toyota are located in the city. The Toyota Commemorative Museum of Industry and Technology (9:30 -17:00, ¥500), a museum in a former factory of the automotive giant, displays the machinery, the history, at the former factory site. At the Toyota Automobile Museum you get to see the history of Toyota vehicles, with a chronological line starting in the late 1800's and ending in the 1960's.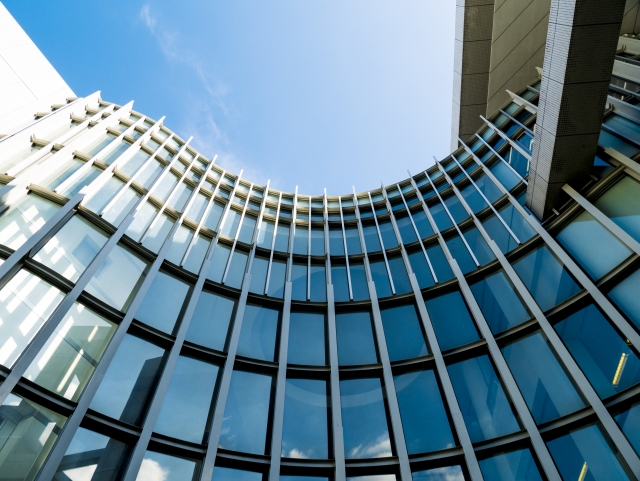 Nagoya has many other museums and themeparks. The Nagoya Boston Museum of Fine Arts  (9:30 -17:30, ¥2,000) in Kanayama district is a sister institution of the Boston Museum of Fine Arts, with mainly temporary exhibitions. SCMaglev and Railway Park (10:00 -17:30, ¥1,000) exhibits over 35 trains such as steam trains and bullet trains. The Nagoya City Science Museum (9:30 -17:00, ¥800) has a large planetarium and exhibitions on weather and electricity. Legoland Japan (10:00 – , ¥6,900) is a recently opened themepark which, as the name implies, is all about lego toys.
Tours from Nagoya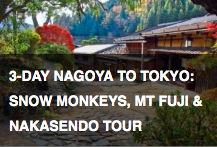 General Information about Nagoya Castle
Opening Hours for Nagoya Castle:
All year round・9:00 ~ 16:30
Entree until・16:00
Closed:
Dec. 29 to 31
Price:
Per adult (16+)・¥500
Per child・Free
Free Guided Tours
Group tour・Everyday at 13:00
Private tour・Reservation needed 7 days in advance
Telephone Number:
+81-52-231-1700
Address:
Nagoya Castle, 1-1 Honmaru, Naka-ku, Nagoya-shi, Aichi Prefecture
Travel Tips
How to get to Nagoya
Tokyo Station → Nagoya Station:
1. From Tokyo Station to Nagoya Station (1 hour 40 minutes):
Take the Tokaido Shinkansen from Tokyo Station to Nagoya Station.