While Tokyo is an experience and most definitely worth exploring for a few days, at a certain point you'll start longing for a deeper cultural experience (and maybe some peace and quiet). This itinerary is created to show you as much as possible of Japan's heartland; starting and ending in Tokyo.
Day 1 Tokyo → Nagano
Day 2 Nagano → Kanazawa
Day 3 Kanazawa → to Takayama
Day 4 Takayama → Matsumoto
Day 5 Matsumoto → Magome
Day 6 Magome → Tsumago
Day 7 Tsumago → Nagoya/Tokyo
The itinerary is created so there is generally no more than 2 hours of public transportation per day on the schedule. All places have a lot to discover so if 1 to 2 days is not enough, you can always make room for an extra day.
Day 1: Tokyo → Nagano/Snow Monkey Park
Start your first day out of the capital right; travel to the forested Snow Monkey area in rural Nagano Prefecture. Take the Hokuriku Shinkansen from Tokyo Station and get off at JR Nagano. From here the Jigokudani Snow Monkey area is only an hour by public transport and 30 minutes on foot on a forest trail away.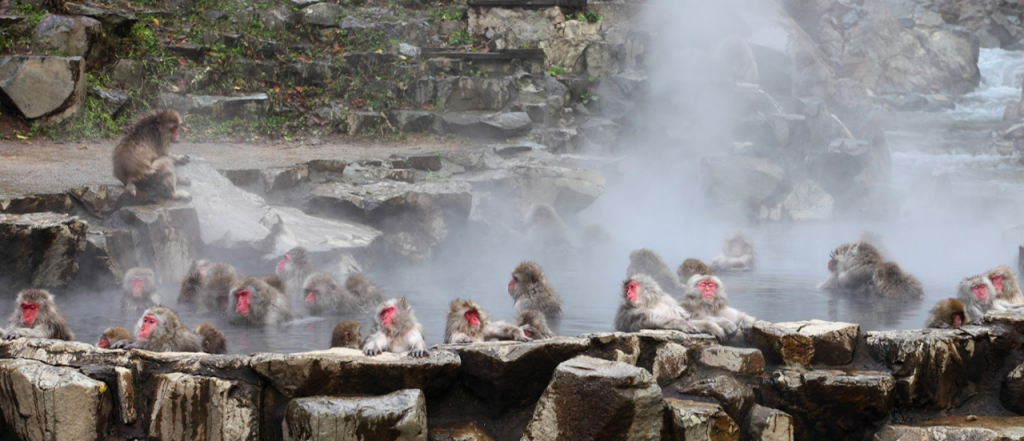 The name for the park is deceptive; the snow monkeys will be lounging in the park come rain or come shine, come snow or come heatwave. These hot spring-bathing macaques are a sight for sore eyes with their adorable fluffy fur and red faces.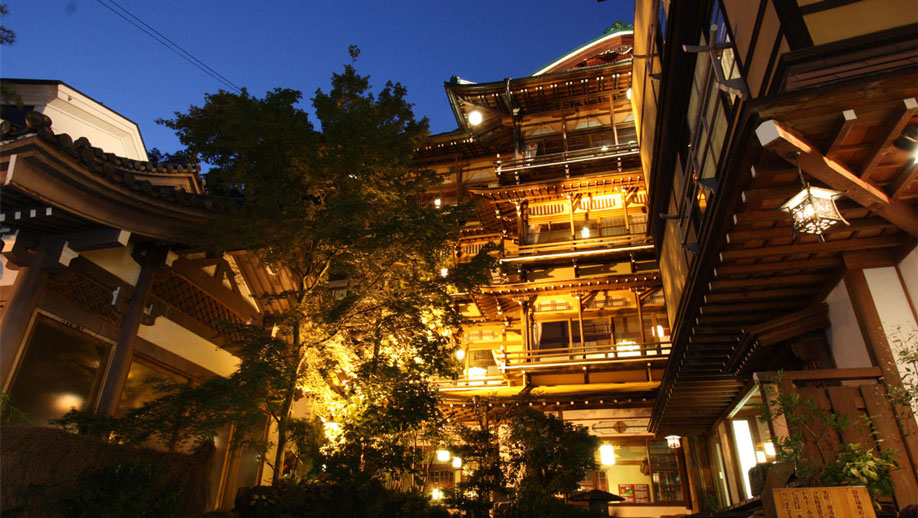 Having seen your share of monkeys monkeying around, walk back along the forest trail. We recommend getting a ryokan – a traditional Japanese guesthouse – in the vicinity of the monkey park as this area has some of Japan's most renowned hot spring facilities. Relax in a hot spring (like the monkeys), enjoy the classic surroundings and the ryokan food experience, and maybe squeeze in a visit to Shibu Onsen – an atmospheric onsen village with a history of 1300 years.
Traveling to this area is easy, but if you want to just relax and let everything be taken care of for you, you can join a local tour operator on the Snow Monkeys, Luxury Ryokan, and Zenko-ji Temple.
Day 2: Nagano → Kanazawa
Wake up bright and early and travel back to Nagano City, where you can deepen your knowledge of Buddhism. The Zenko-ji Temple – a large complex in the heart of the city – has long been the pride and joy of the people of Nagano (although having hosted the Olympics in 1998 comes a close second). The expansive grounds hold 39 temples, with the crowning jewel being the Main Hall – the third largest wooden temple in Japan. Here the first Buddhist statue in Japan is hidden, a fact that has elevated Zenko-ji to one of the premier temples in country of the rising sun.
Once you're feeling enlightened enough, get on the Shinkansen bound for Kanazawa at JR Nagano Station. In 90 minutes you'll arrive to Kanazawa, also aptly nicknamed 'Little Kyoto'. This city – capital of the prefecture of Ishikawa – is a seaside town and renowned for its delicious seafood dishes like snow crab.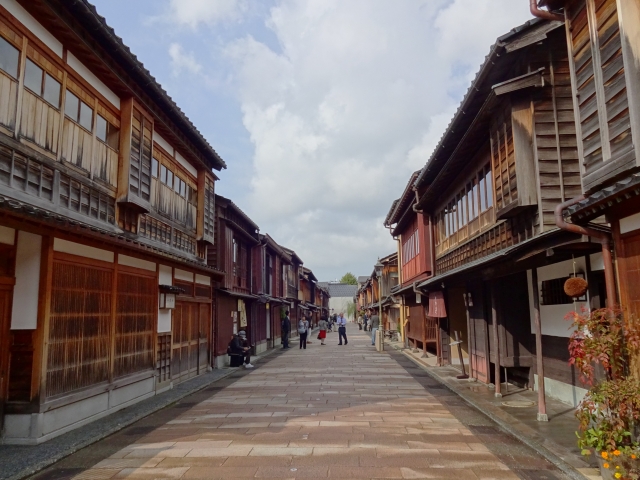 Besides good food, Kanazawa speaks to the imagination through its centuries-old geisha and samurai districts. Wander into a world that has seized to exist in most places in Japan and learn all about the tea ceremony, the craft of goldleaf, and enjoy the various sounds of koto coming out of the tea houses lining the street.
Day 3 Kanazawa → Takayama
In the morning, explore Kenroku-en, the famed garden of Kanazawa. This garden is known as one of the 3 Most Beautiful Gardens in Japan and has a plum grove, a lovely lake, tea houses, and more. Additionally, visit the castle adjacent to the gardens before making your way to the station.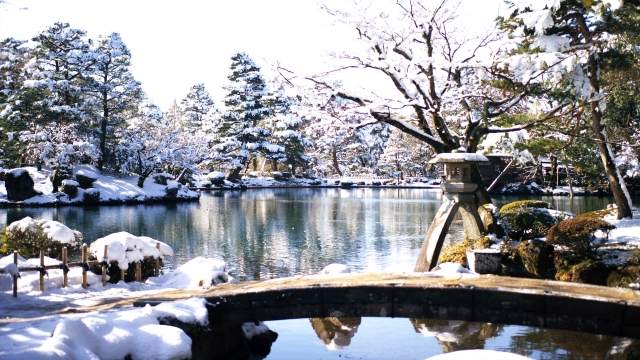 At the station, take a seat on one of the buses going to Takayama. These buses make a stopover at Shirakawa-go on the way to Takayama so if it tickles your fancy, get off and explore the town houses with roofs shaped like hands in prayer.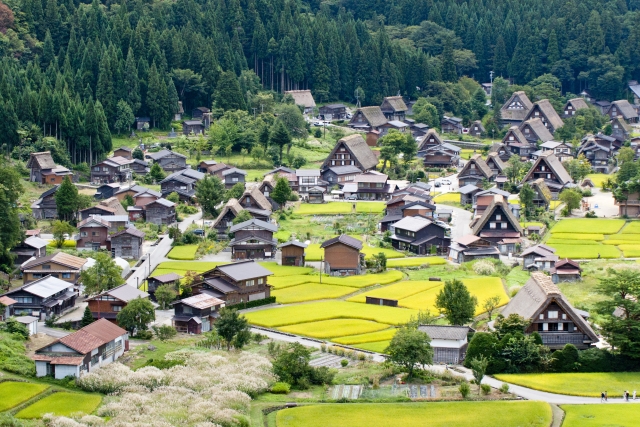 At Takayama, explore the old town at night or just relax at your hotel/ryokan. For dinner, we recommend a slice of Hida beef, a famous wagyu type in Central Honshu.
Day 4: Takayama → Matsumoto 
Another day of explorations is waiting for you! Takayama is most alive in the morning, with its morning markets selling all types of seasonal veggies, treats, and souvenirs. Discover the famous merchant's town – sample sake, eat local delicacies,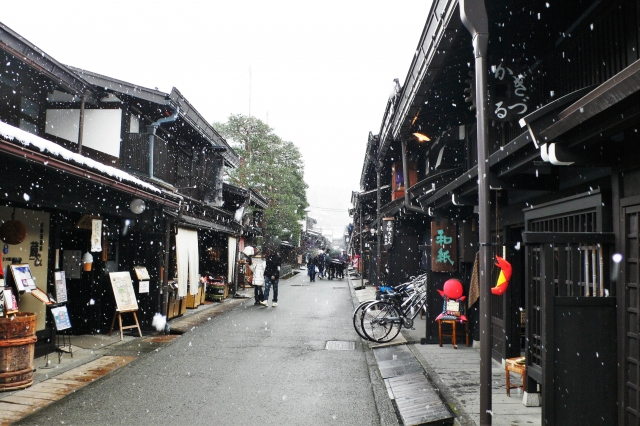 Once you've had enough, wander to the station of Takayama and get on the bus. I would recommend getting on the bus while its still light because the bus-ride itself is an experience. You'll travel through valleys renowned for their natural beauty surrounded by stunningly high mountains. The water of the river is a clear, clean blue.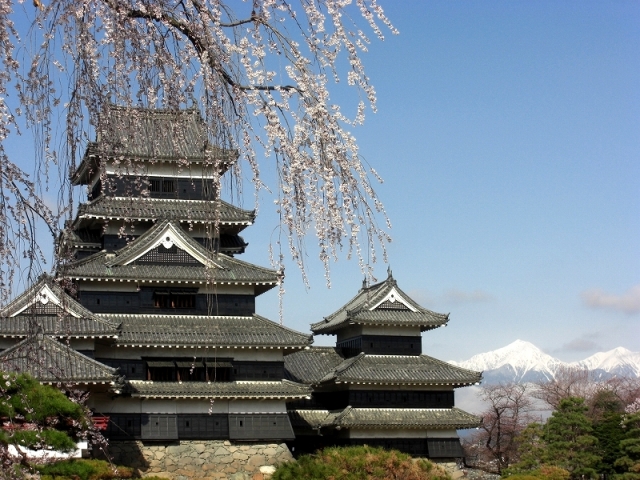 The travel by bus is approximately 2.5 hours, so by the time you arrive to Matsumoto twilight might be setting in. This is by no means a bad deal. While you cannot access the castle and climb to the top of the impressive structure after nightfall, once the sun sets, the castle is illuminated, brightening the already illuminating white walls and making it look eerily spectacular.
Day 5: Matsumoto → Magome
Matsumoto is not a big city, and many attractions can be reached by foot. If you want to know what the castle looks like from the inside, make your way to the famous structure – known as one of the 3 Great Castles in Japan – and climb the narrow stairs to the top.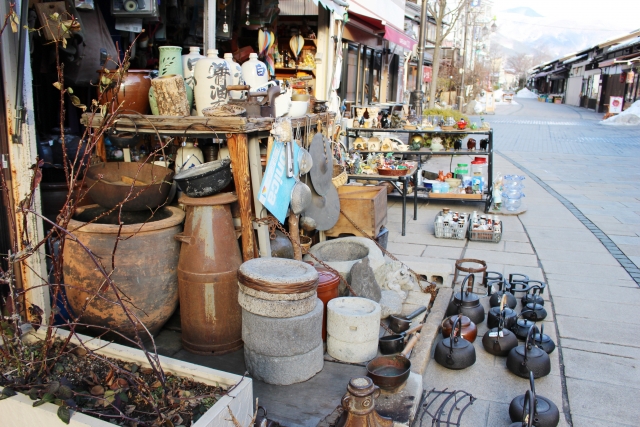 Besides the castle – which admittedly is the major attraction of the city – there are two attractive streets lining the river running through Matsumoto. One of the streets is affectionately called the Frog Street, which is showcased by the many frog statues and other frog-like items sold at the small, quaint shops. Cross the bridge and you're in the warehouse street. This street is for the hip locals, with fashionable cafes and shops.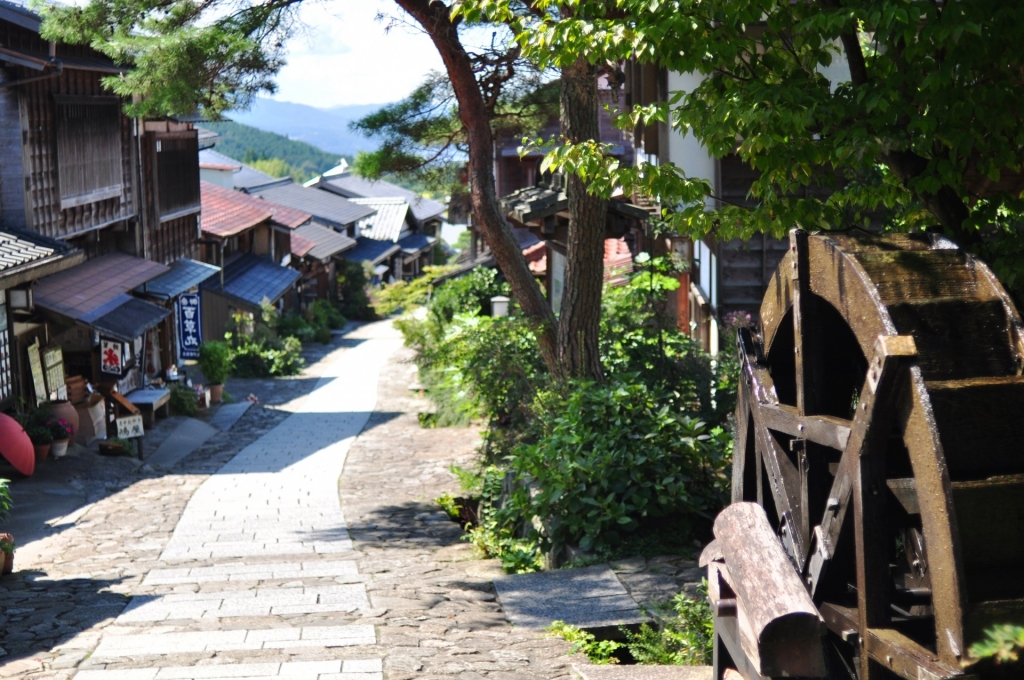 Having explored Matsumoto, get on the Shinano Express to Nakatsugawa, the gateway station to Magome, one of Japan's most famous and well-preserved post towns. The trainride on the Shinano Express in an attractive one, going through valleys, sided by rivers. Once at Nakatsugawa, take the local bus to the Magome bus stop. If you're there before 16:00, the many shops and museums are still in business. If you're a little later (even 1 minute) you can say your goodbyes to any shopping plans. Check-in at your local lodging and get an early night's rest so you can mentally prepare yourself for a long walk the next day.
Day 6: Magome → Tsumago
Another early wake-up call is recommended for Day 6. This because you will be walking for 8km and an early bird catches the worm. The town of Magome is nice and quiet in the morning. While walking to the top of the hill where the Nakasendo walk starts, marvel at the various shops offering local delicacies such as gohei-mochi (sticky rice with a delicious nutty paste), soba, and local wooden crafts.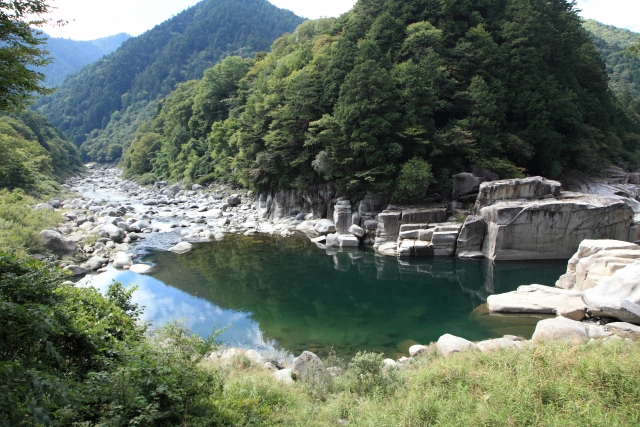 The Nakasendo walk has been walked by nobles, samurais, commoners, and merchants year after year in the Edo Period (1600-1868). Walk past dew-dropped stalks of bamboo, tall cedars, wild streams and waterfalls, and well-maintained attractive traditional town and farmhouses. For fast-paced travelers, the walk might take 2.5 hours. If you'd like to take your time and take in the admittedly stunning surroundings, add 1 to 2 hours to the estimation.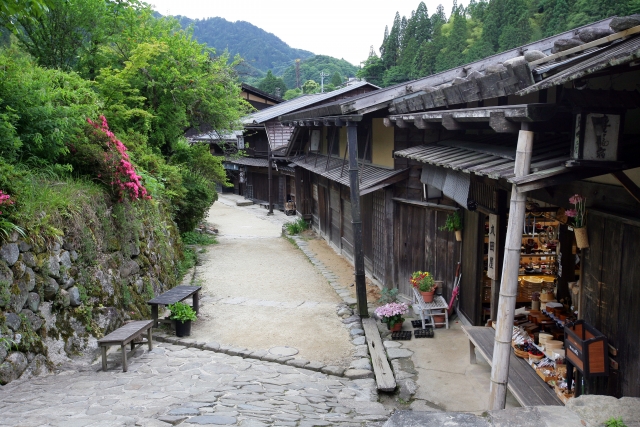 Tsumago is one of the best-preserved examples of an Edo Period post town. You'll notice immediately that you've arrived at your destination – Tsumago's lovely houses and, all of the sudden, many, many more people are all around. Tsumago has a wide variety of shops and museums to be explored.
Having explored Tsumago, you can choose to stay at the attractive town overnight or to travel straight to Nagoya. Noteworthy is that there is very little to do in Tsumago after 16:00, just like many other rural, traditional towns like Tsumago and Takayama. If you choose to go straight to Nagoya, take the local bus to Nagiso and get back on the Shinano Express train bound for Nagoya.
Day 7: Tsumago → Nagoya/Tokyo
Nagoya, as Japan's most central transport hub, is your gateway to either Osaka, Tokyo, or Kyoto. The city has much more to offer than an excellent transportation system; there is a beautiful castle, famous shrine, aquarium, shopping opportunities, and more! It might be worth getting off the train in Nagoya and exploring Japan's third largest city before continuing on your journey.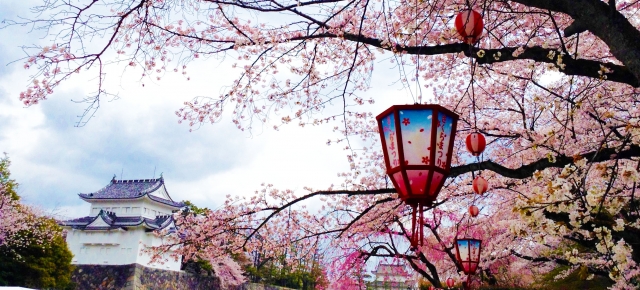 ・・・
If you are looking for assistance
If this is an itinerary you are interested in and you'd like help in getting you ready for the road, we can provide a self-guided tour package, complete with hotels, ryokans, detailed transportation information, and sightseeing lists.
Contact us at gettingaroundjapan@machinovate.com for more information.